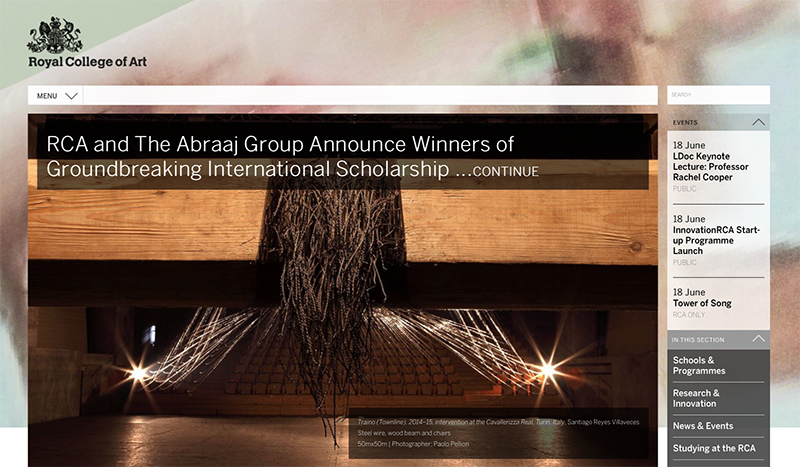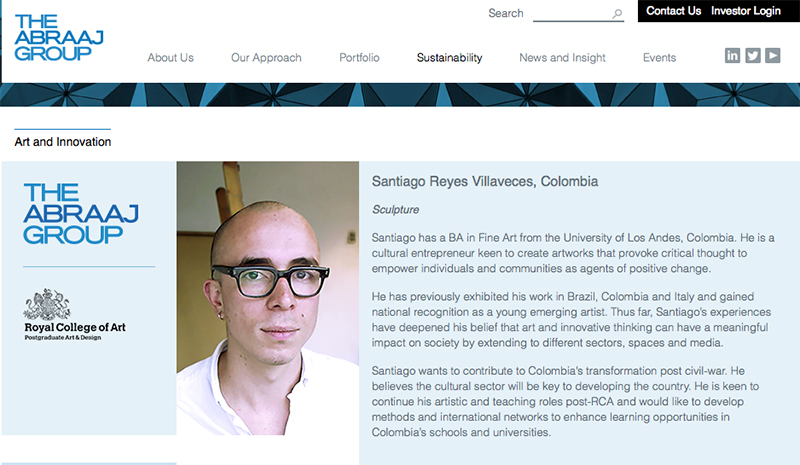 Santiago Reyes Villaveces, uno de los cinco ganadores de Abraaj Royal College of Art Innovation Scholarship, la beca más grande a nivel internacional para los programas de posgrado en el sector creativo.
Master en escultura 2015-2017 en el Royal College of Art
Launched in 2014, the Abraaj RCA Innovation Scholarship is the largest-ever international scholarship programme in the postgraduate creative sector, supporting five outstanding RCA applicants from across Africa, Asia, Latin America, the Middle East and Turkey every year.
The Scholars were selected by an international panel of world-leading creative thinkers and visionaries, including contemporary artist Yinka Shonibare MBE, Paola Antonelli, Senior Curator of the Department of Architecture and Design at New York's Museum of Modern Art, and Dame Marjorie Scardino, Twitter's first female Executive Board member. The winning applicants surpassed fierce competition from a host of gifted candidates, impressing judges with their undeniable talent, dedication and unique cultural understanding. Judges this year were particularly struck by the keen sense of social responsibility demonstrated by each of the successful candidates.
The mission of the Abraaj scholarship programme is to create a unique community of creative leaders, who share the values, integrity and social responsibility upheld by Abraaj and the RCA. They are expected to use the transformative powers of their RCA education to impact positively on life in their home countries. Each student will be enrolled full time in a Master of Arts programme at the RCA.
Sarsenbek Hazken, a former astronomy graduate and designer from Kazakhstan, joins the Innovation Design Engineering programme, alongside healthcare designer Pratik Ghosh from India. Santiago Reyes Villaveces, a university tutor, editor and practising artist from Colombia, joins the Sculpture programme; Rhine Bernardino, a performance artist from the Philippines, joins the Photography programme, and Andres Souto Vilaros, a practising architect from Mexico, joins the Architecture programme.
Royal College of Art
http://www.rca.ac.uk/news-and-events/news/rca-and-abraaj-group-announce-winners/.
Abraaj Group
http://www.abraaj.com/sustainability/art-and-innovation/rca/santiago-reyes-villaveces-columbia
za za za za za za