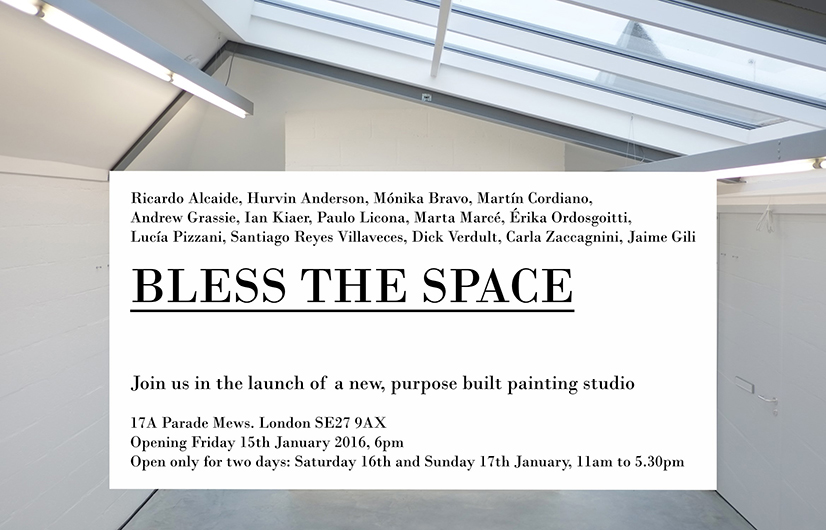 Opening Friday 15th January 2016, 6pm.
Open for two days, only: Saturday 16th and Sunday 17th January 2016. 11 am to 5.30 pm
Jaime Gili Studio. 17A Parade Mews. London SE27 9AX

London in the midst of another financial bubble, probably the one that has reshaped the city most and certainly the one that has endangered more artists, pushing many out of their studios and even out of the city. A South London exception happened a few years ago when a group of artists and craftspeople were lucky enough to snap off the hands of developers a small end of mews hidden behind the south circular road. One of the 25 artists there was Jaime Gili, who had previously been renting a cold ground floor space for over ten years and is now opening it with a group exhibition after a –proportionally big– refurbishment.
During processes of change in any city, it is quite common to see that before large studio spaces are sealed for demolition or refurbishment, they are used by artists to set up one final exhibition. Opening the spaces to the public for a last time. In this case, this situation has somehow been reversed, and the space will open to the public after a refurbishment, and just before the space is used as an artist studio again.
The purpose of this exhibition is thus to re-start activities with a warm, good omen. To re-start in good company and "bless the space" with good art. The artists in the exhibition come from different cities (London, Bogota, Berlin and Caracas) and work with architecture or have worked somehow with the idea of artist's studios as transcendental spaces. Some of the artists´ practice is deeply rooted in the City -and its changes- as a source material, but the ones who do not relate directly to (the) architecture, are in other ways sympathetic to the idea of blessing and the spiritual, bringing an uncanny, new reading to the rest of the works on show.
The artists are: Ricardo Alcaide, Hurvin Anderson, Mónika Bravo, Martín Cordiano, Andrew Grassie, Ian Kiaer, Paulo Licona, Marta Marcé, Érika Ordosgoitti, Lucía Pizzani, Dick Verdult, Santiago Reyes Villaveces, Carla Zaccagnini and Jaime Gili.
The exhibition is only open for two days, Saturday 16th and Sunday 17th of January 2016. With an opening reception on Friday 15th at 6pm.